Free Download 11 Best Android Games for Girls
Not just guys who playing games. Many girls also have a hobby of playing games. Maybe you've heard the term "gamer girl"?
The term is seen popularly aimed at girls who are playing games that many played by boys. But really do not need those frills to play the game!
DigitalProvoke collected reference games on Android that you can download. What are the most exciting games for these girls? Here's the review of Best Android Games for Girls.
#1 Romantic Journey Love Story
This Android romantic game is created by Bluebell Lush Interactive Limited. In this game you will meet some men who you can choose to be a date. Every man must have a different personality. So do not make the wrong choice.
For you who often play strategy game on computer, must know this game. Plants vs. Plants Zombies 2 for Android offers a gameplay that is not much different from its PC games. But with the graphics are more subtle and cool, as well as more plant and zombie characters.
Hay Day is one of the best girls games made by Supercell. In this game, you can build a plantation and use other land to grow crops. The proceeds from your plantation and farm will be sold for money.
#4 Gabby's Diary 2 love & dressup
Success with the first series, the developer Suzie Games finally made a sequel of Gabby's Diary game. Here Gabby will meet many new friends, especially male friends who can be invited to date.
#5 Snapimals: Discover Animals
This Android game is widely recommended by girls gamers. In this game, your mission is to photograph the animals while walking around looking at life in the wild. Later, the photos will be sold and the results you can use to create museums and more. This game is quite fun and surprisingly relaxing with the music accompaniment is nice to hear.
#6 Princess Prom Night – Dress Up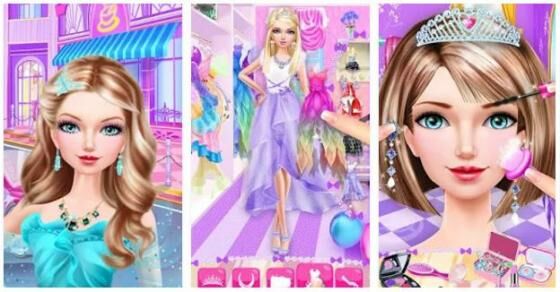 This best fashion game is made by Beauty Girls. Not only clothes and accessories to choose from, you can also change your makeup and hair style at will. Do not forget to wear clothes that match your makeup and hairstyle.
#7 FarmVille 2: Country Escape
FarmVille is a game where you become a farmer and a rancher. Following the success of its first game, the game developer released a sequel called FarmVille 2: Country Escape. In this game you can play with other players, such as fishing together, or trade. Be careful, you can forget the time if you play this game.
Did you know? Many games are created for girls with food themes. Well, the difference Bonnie's Brunch with other games that have been discussed above is you are in charge of managing food truck and serving food to one by one customer who came.
In this simulation-based restaurant game, you are in charge of managing a restaurant that serves Italian cuisine with such a place setting in the beautiful city of Venice. In addition to serving food, you can also decorate your own restaurant! If a girl can not stand deh if it's a decorative business.
In this game you are in charge of managing a store that serves dessert and pastry. In addition, you can also create unique fresh drinks here. In addition, just like I Love Pasta, in this game you can also decorate your shop as interesting as possible
Who does not know Candy Crush Saga? More than 500 million people have installed this sweet puzzle game into their gadgets. From the success, came out the second game that is Candy Crush Soda Saga. How to play the same game with the first game, but here there are types of candy, combinations, and also a new game mode with purple soda.